CAREERS IN PT AMBASSADOR PROGRAM
Advisors, educators, or influencers play a major role in guiding prospective students to the profession of physical therapy. The IPTF and APTA have partnered to utilize the APTA Physical Therapy Moves Me student recruitment campaign along with the IPTF Careers in PT Ambassador program to make it easier to reach the next generation of physical therapist and physical therapist assistants.
The Illinois Physical Therapy Foundation's Careers in PT Committee is seeking Illinois PT and PTA students who are passionate about the profession to join us in raising awareness of physical therapy, recruiting the next generation of physical therapists and physical therapist assistants, and increasing diversity within the profession. We need enthusiastic presenters to give talks to high school and middle school students about the PT profession, the pathways to becoming a PT and/or PTA as well as explain how physical therapy helps maintain a healthy lifestyle. We have a PowerPoint presentation and suggested interactive activities prepared for you to use.  These presentations can be in-person or virtual depending on the school and your preferences.
Not only will you be vital in promoting the physical therapy profession, but you will also be earning $50 per session!  This is a great way to offset some school expenses while talking about your future profession.  You may earn up to $500 per year.
If you are interested in serving as a PT Ambassador, please complete the application. You will be contacted with the next steps once your application has been reviewed.
All student PT Ambassadors MUST BE current student members of the IPTA. Be sure to be logged into the IPTA website prior to completing the application, so that many of the form questions will be automatically filled in.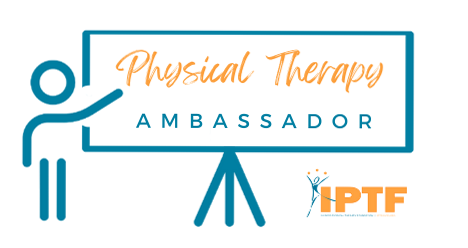 Careers in PT Ambassador Application
The Careers in PT Committee has facilitated your Careers in PT Presentation by preparing some materials in advance to make it easier for you.
Download and review the Presentation Guide to help you prepare for your presentation.


Download the Presentation PowerPoint and use it as a starting point for your presentation, personalizing it as needed for your particular school audience.
We also have activities and handouts available for you to make your presentation as interactive and interesting as possible. Committee members can assist you in preparing for your presentation.