POST-PROFESSIONAL EDUCATION OPPORTUNITIES
Life-long learning is a vital part of continued competence and active professional growth for physical therapists and researchers.
The formal tools to achieve this growth fall under the heading of post-professional education. Post-professional education tracks exist to further clinical skill based knowledge, develop skills to perform research, enhance teaching and educational method skills and for specific scientific and philosophical areas of development which can be used for professional growth and advancement.
Current healthcare trends demonstrate the need and expectation for practitioners to have knowledge and skills in step with advanced degrees and specialization. If you are looking for ways to advance your knowledge and practice, there are three categories of post-professional learning to consider: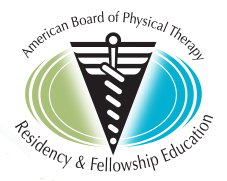 The American Board of Physical Therapy Residency and Fellowship Education (ABPTRFE) is the accrediting body for the American Physical Therapy Association (APTA) for post-professional residency and fellowship programs in physical therapy.
Accreditation is the process used by APTA to ensure the quality of the education that participants receive in residency and fellowship programs in physical therapy. It is a voluntary, nongovernmental, peer-reviewed process that occurs on a regular basis. More information available at abptrfe.org.

Residency Programs
Number of Accredited Programs: 219
Number of Graduates (1999-2015): 2643
Combines opportunities for ongoing mentoring including formal and informal feedback to the physical therapist resident
Goal for the residency program is to have increased work in a specialized advanced practice area
Program's curriculum must cover the entire corresponding Descriptions of Specialty Practice
Minimum of 150 hours of 1:1 mentoring and 75 hours of didactic instruction while treating patients in a specialized setting
See the full list of residencies available on ABPTRFE's website.
Fellowship Programs
Number of Accredited Programs: 42
Number of Graduates (1999-2015): 1304
Combines opportunities for ongoing mentoring to the physical therapist fellow-in-training, including required written and live patient practical examinations
Fellowships should have a curriculum based in one or more subspecialty (specific areas of a Physical Therapy Specialty Practice) areas.
Subspecialized programs must include postprofessional education and training in the scientific principles underlying practice applications
Minimum of 100 hours of 1:1 mentoring and 50 hours of advanced didactic instruction within an area of subspecialty over the course of the program
See the full list of fellowships available on ABPTRFE's website.
How Do Residencies and Fellowships differ?
A Residency is…
Designed to advance a therapist's expertise in a defined area of clinical practice
Often designed to prepare individuals to become board-certified clinical specialists by the American Board of Physical Therapy Specialties
For newer professionals, typically
A Fellowship is …
Designed to provide greater depth within a subspecialty area (i.e., critical care, neonatology, manual therapy, upper extremity, etc.)
Not for new professionals
Only open to applicants demonstrating prior to application one of the following: specialist certification, completion of residency, clinical skills
Physical therapist education is available at a post-professional doctoral  level with enhanced educational and research opportunities for physical therapists.
Physical Therapists can choose multiple venues for advancing knowledge past their entry level degree.  It is important that each therapist determine what type of degree and university best suits him/her needs and ongoing professional development needs.   Most post-professional degree areas require a course work and an original research component.  Post-professional degree areas include:
PhD – Doctor of Philosophy
EdD – Doctor of Education
DSc – Doctor of Science
DHS – Doctor of Health Science
For a full listing of available programs, please visit the APTA website.
ABPTS – American Board of Physical Therapy Specialists
Voluntary process
Recognize physical therapists with advanced clinical knowledge, experience, and skills in a specialized area of practice
Assist consumers and healthcare community in identifying PTs who are specialists
Requirements for Application
Applicant must demonstrate 2,000 hours of direct patient care in the clinical specialty area
Evidence of successful completion of an APTA approved post-professional residency program
Some specialty areas require:

Emergency Care- Sports
ACLS Certification, Data Analysis Project- Cardiovascular and Pulmonary
Patient Reports- Clinical Electrophysiologic
Case Reflections- Woman's Health

Exam is 200 questions in length and applicants are given six hours to complete exam
Exam covers all aspects of the chosen area of specialization
EXISTING SPECIALISTS
| | |
| --- | --- |
| Illinois Specialists by Specialty Area | Number (as of June 2016) |
| Cardiovascular & Pulmonary | 16 |
| Clinical Electrophysiology | 3 |
| Geriatrics | 68 |
| Neurology | 113 |
| Orthopedics | 479 |
| Pediatrics | 77 |
| Sports | 44 |
| Women's Health | 21 |
For a current directory of specialists, please visit the ABPTS website.