purchase a paver on the legacy walk at IPTA chapter office
THANK YOU FOR HELPING US CELEBRATE THE IPTA'S 70 ANNIVERSARY AND SUPPORT THE IPTF'S NEW DEI SCHOLARSHIP!
In celebrating IPTA's 70th Anniversary, we honored each of our past IPTA Presidents with a paver. These pavers were purchased through the generous donations collected from our "70 Miles for 70 Years - Run, Walk or Roll" Fundraiser. We appreciate the leadership of these past Presidents in moving our profession forward. If you haven't already, check out this video montage of messages from our past Presidents. It is amazing to learn about the successes and challenges of our past from those who have led us to our future!
Net proceeds from this fundraiser supported the IPTF DEI Scholarship.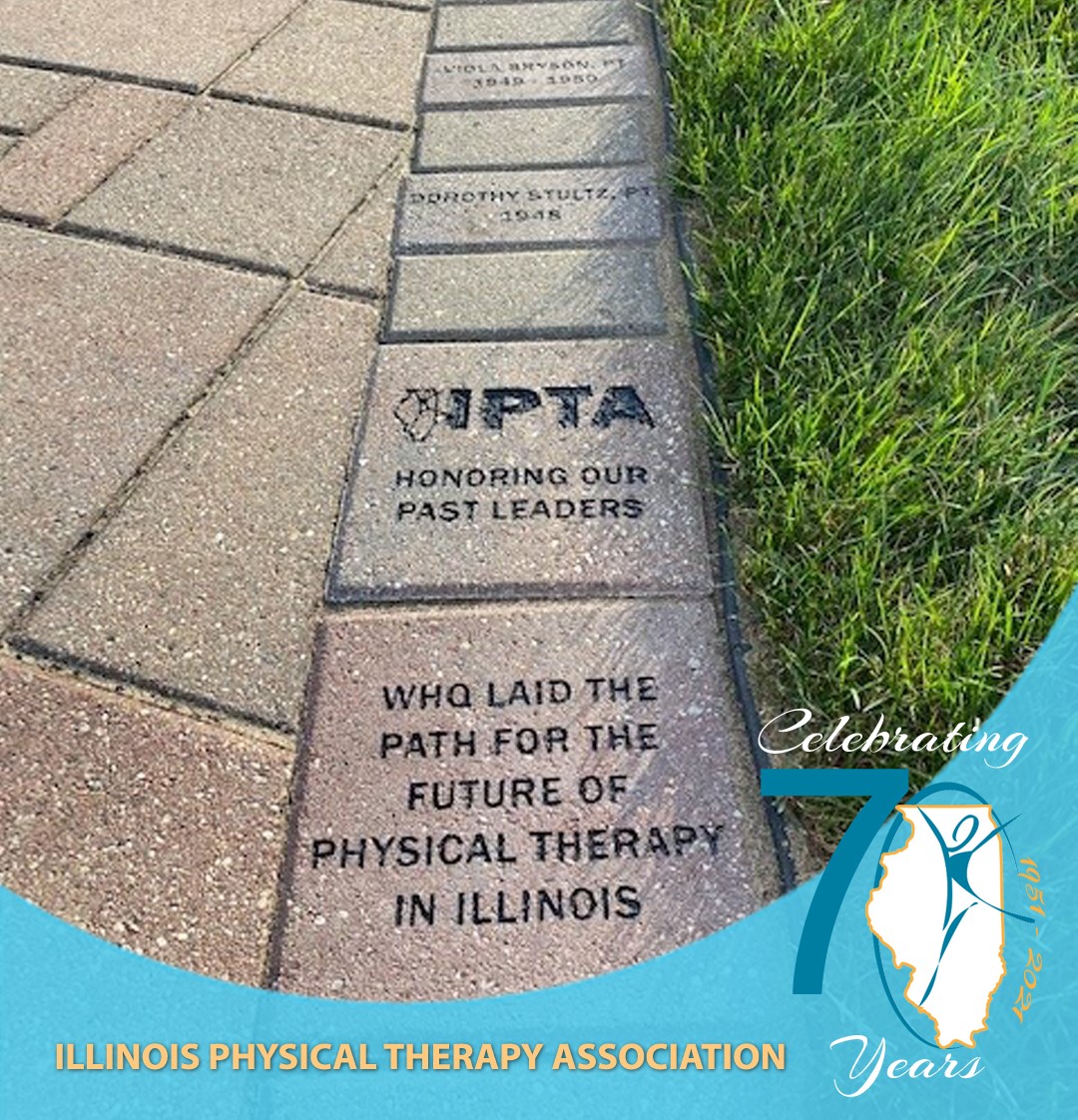 Step up and help us pave the way for the future of physical therapy
The Legacy Walk gives members and friends an opportunity to become a part of the Chapter's rich history and its future by purchasing engraved pavers to be installed in the brick pathway outside of the IPTA chapter office in Naperville. Groups or individuals can use the pavers to commemorate special occasions, honor professional contributions or memorialize past or current members. (For ideas, see how others have used the bricks below.)
The purpose of the Legacy Walk is to Support Physical Therapy Research here in Illinois! While the Legacy Walk was initially formed to help IPTA meet its pledge to raise $22,500 to help fund the Foundation for Physical Therapy's Center for Excellence in Health Services Research, we have met our goal through the help from our many generous benefactors. Now you can STEP UP and PAVE the WAY for RESEARCH in ILLINOIS. All proceeds from your purchase of a paver for the Legacy Walk will help fund our $1000 Research Grants, support student scholarships, and educate the public about physical therapy. Besides helping to raise funds, the Legacy Walk  is a timeless tribute to the importance of physical therapy and to the individuals committed to preserving its future. Help IPTF  support its' mission and create your own legacy in Physical Therapy! All paver purchases are 100% TAX DEDUCTIBLE. We challenge you to take the first step today!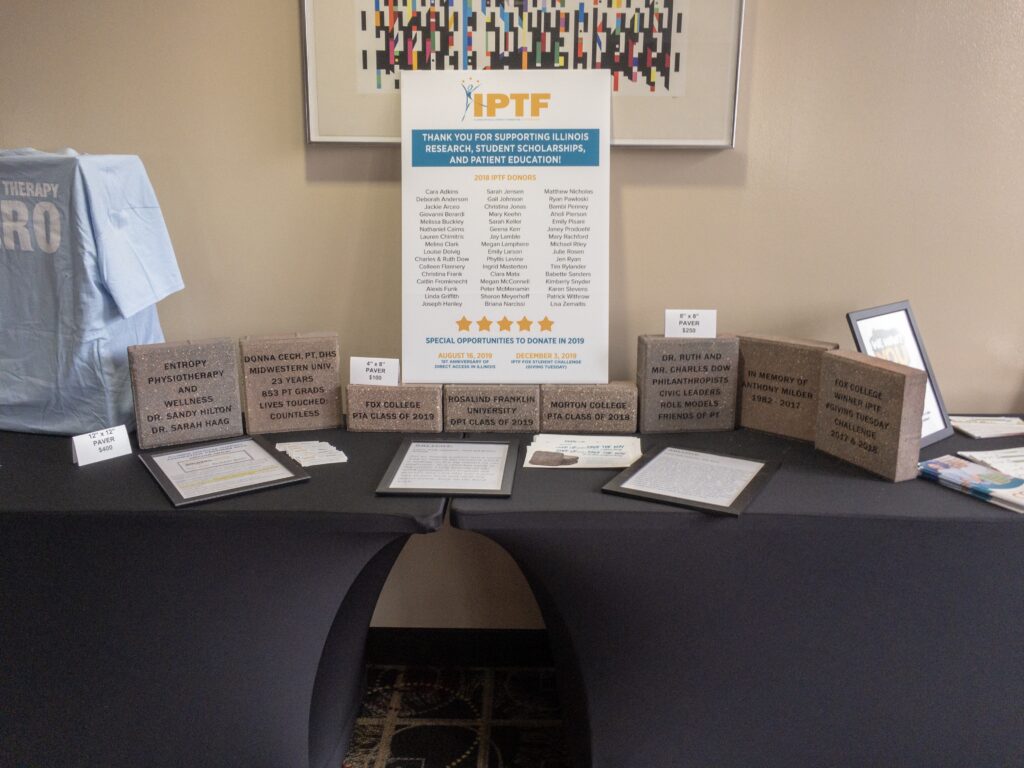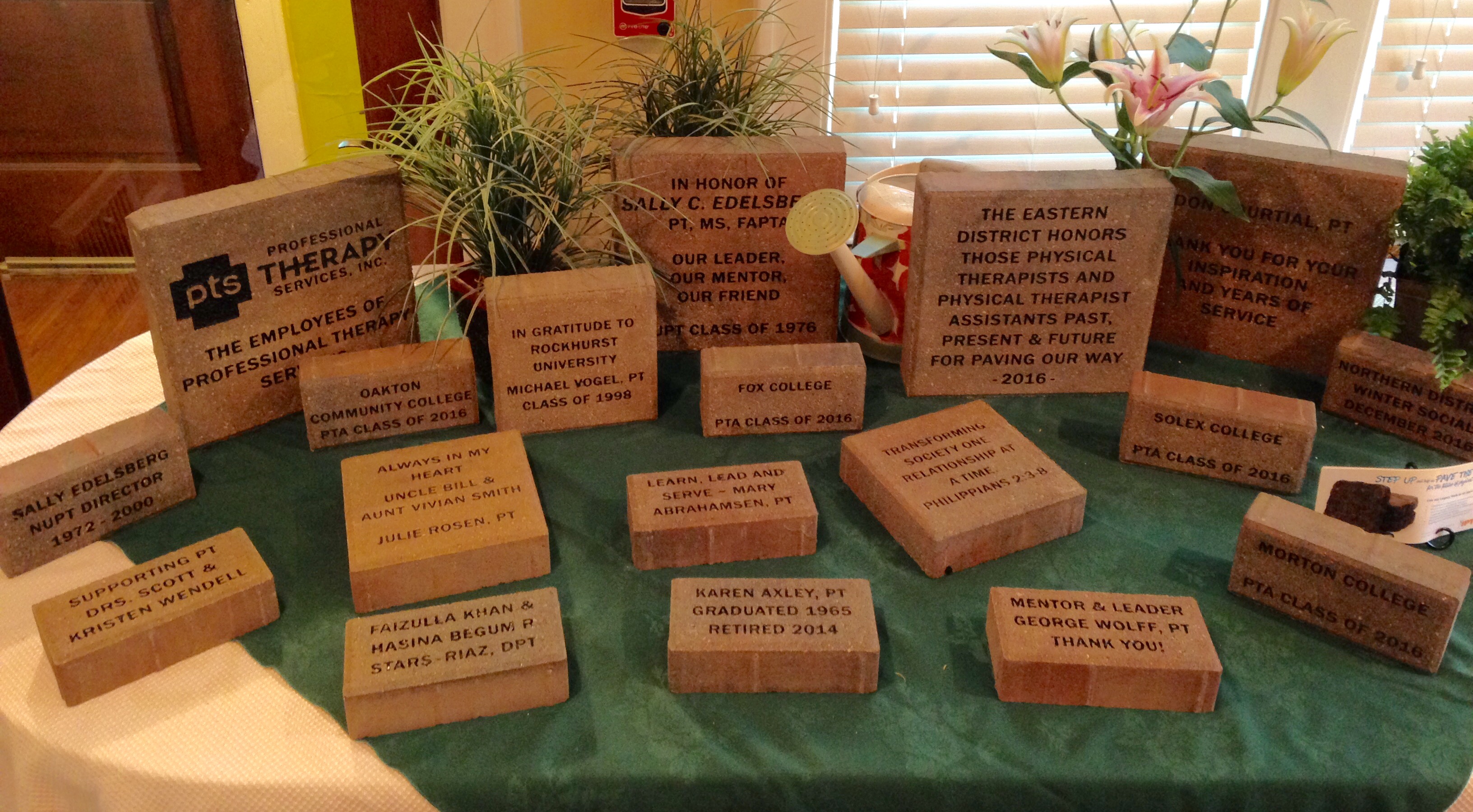 All together we are supporting the IPTF Mission!
Honoring our newest Legacy Pavers
Why buy a paver? You can use it to:
A Professor

Acknowledge a professor who played a special role in your physical therapy education.

YOUR MENTOR

Show your appreciation for received guidance and support.

past & present members

Thank members for their personal contributions to the profession of physical therapy.

LEADERSHIP

Acknowledge years of service in leadership roles.
professional accomplishment

Mark the day you received your license or received special acknowledgement for your work in PT.

years in practice

Record milestones or look back at your career years at retirement.

GRADUATION

Commemorate your graduating class or declare your personal dedication to physical therapy.

private practices

Recognize the achievement of opening your private practice.
FRIENDS

Memorialize a professional peer with a lasting token of your remembrance.

Special dates

Note past experiences, missions, teams, special projects or community events.
4" x 8" brick
$100
Laser engraved
Durable and long-lasting
Maximum 3 lines, 15 characters per line.
Buy now
8" x 8" brick
Most Popular!
$250
Laser engraved
Durable and long-lasting
Maximum 6 lines, 15 characters per line.
Buy now
12" x 12" BRICK
$400
Laser engraved
Durable and long-lasting
Maximum 9 lines, 20 characters per line.
ADD A LOGO (will impact number of characters that can be included)
Buy now
IMPORTANT!
Once payment for your paver has been completed, please call Linda Griffith at 630-904-0101 or send an email to
[email protected]
with your engraving instructions.